Pacific Community Services, Inc.
Located at 329 Railroad Avenue, Pittsburg CA 94565                                                                                                         Phone (800) 914-6874       © 2018 
Community Arts and Culture:
Pacific Community Services, Inc. supports community based arts and cultural activities through hosting the Pittsburg Preforming Arts Acdame at its home office building, in advocating the restoration and community use of the California Theatre and as a producers of arts and cultural activities including the monthly film series, Live Organ and a Movie.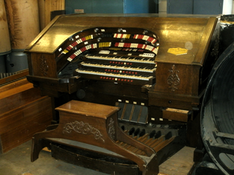 Pacific Community Services, Inc. is fund raising and directing the restoration of the 1928 Robert Morton Theatre organ, reinstalled in its original home, Pittsburg's historic Califonia Theatre.  The organ went live in the theatre for the December 2018 PCT Christmas show using a small Wurlitzer console.  The main 3 manual Robert Morton console was installed on a stage lift and put into service on February  27. 2019.  The organ is used as a prelude for the monthly Live Organ & a Movie series of classic film, produced by Pacific Community Services.